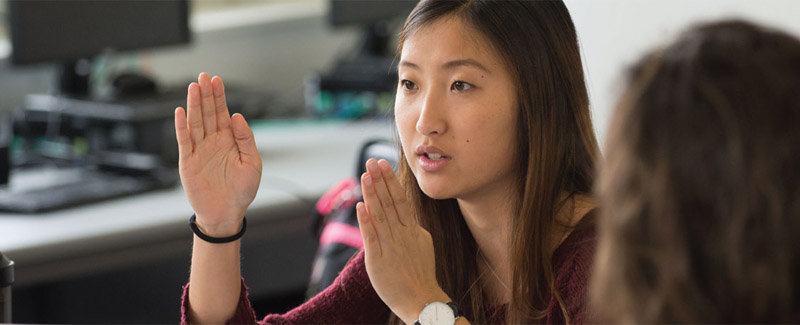 ---
Like most STEM students, students in the Physics major need to be more intentional in their academic planning in order to make study abroad work. While a summer might help you get or stay ahead without risking progress toward your degree, it can be more expensive. While a semester or year might be more challenging academically, for most UC Merced students it tends to be a much lower out-of-pocket cost.
Programs Specifically Selected for Physics
COUNTRYwithPROGRAM
DESCRIPTION
Immersion & Exchange Programs Suggested for Physics
Sweden: Lund Univ.
Lund University has robust course offerings in the physical sciences, particularly in the departments of Chemistry and Physics. You can enroll in both theoretical and project-based courses and engage in research projects within the university. You may also take first year graduate-level courses for upper-division credit provided you have the appropriate background.
Japan: STEM Research in Tokyo
Spend six weeks next summer engaged in scientific research in Tokyo. This is a full-time academic internship led by world-class faculty at the University of Tokyo, the #1 university in Japan. Shared dialogue, experiments, and peer consultation are integral to the program, and give you an opportunity to conduct lab research with scientists from around the world.
Singapore: National Univ. of Singapore (NUS)
The Faculty of Science has many world-renowned and award-winning faculty who are passionate about their fields of study. The Undergraduate Research Opportunities Program in Science gives you the opportunity to work with these faculty members in various areas of research. The National University of Singapore offers a full range of courses in the sciences.
Australia: Univ. of Melbourne
A top-100 university in both physics and overall, the University of Melbourne offers a wide variety of courses and a premier education modeled after the top universities in the world. Melbourne's six core undergraduate degrees in the arts, biomedicine (pre-med), science, design, music, and commerce accommodate over 100 majors.
Hong Kong: Chinese Univ. of Hong Kong (CUHK)
This program offers a full range of courses that include fieldwork, research, or lab components that provide you with the opportunity to gain practical experience in your major. The Mathematics Department has a computing laboratory with the latest technology, and the Department of Chemistry is one of the largest and best equipped departments at CUHK with laboratories for analytical, organic, inorganic, and physical chemistry.
Denmark: Univ. of Copenhagen
Students in Copenhagen enjoy small class sizes within this large research-based institution. The departments of Chemistry, Mathematical Science, and Geosciences have a large selection of courses taught in English. You may take first year graduate-level courses for upper-division credit provided you have the appropriate background.
United Kingdom: Scottish Universities: Univ. of St. Andrews
The University of St. Andrews has established a reputation as one of the world's leading research and teaching centers. St. Andrews is a beautiful historic town and is an excellent choice for studying physical sciences.
New Zealand: Univ. of Auckland
The Faculty of Science at the University of Auckland is the largest and most highly ranked science department in New Zealand and offers a diverse range of excellent programs and courses. You may also apply for a summer scholarship (U.S. winter) valued at $5,000 to conduct a 10-week research project under the supervision of an academic staff member.
Ireland: Irish Universities: Univ. College Dublin
University College Dublin (UCD) is one of Europe's leading research universities. In the newly designed UCD Science Centre, courses are taught in the biological, biomedical, chemical, geological, physical, mathematical, and computer science areas.
Internship Opportunities for MAJOR Majors
COUNTRYwithPROGRAM
DESCRIPTION
Research Opportunities for MAJOR Majors
COUNTRYwithPROGRAM
DESCRIPTION
Global & International Opportunities
COUNTRYwithPROGRAM
DESCRIPTION
Summer Introductory Physics Abroad
One potential route to study abroad for STEM students is to tackle a full year of introductory physics over the summer. Typically, this is the summer between students' first and second year at UC Merced. Consider these options:
Australia: Sydney Summer Physics
Earn a full year of calculus-based physics credit in just eight weeks. Fulfill math requirements for the life sciences or get a jump on pre-med coursework and experience life in Sydney, Australia.
Cyprus: Nicosia Summer Physics
Study intensive physics for the life sciences in beautiful Cyprus. Note that this program is better suited to biological sciences students than other STEM students.
Ireland: Cork Summer Physics
In just eight weeks at the University College Cork, you can earn a full year of calculus-based physics credit, get a jump on math coursework, or prepare for a pre-med track. Lab experiments and group workshops expand your science knowledge with students from around the world.
Spain: Madrid Summer Physics
Add some sizzle to your summer—study in Madrid and return with a full year of physics credit. This intense 8-week program is ideal for life sciences majors who want to get a quick boost in academics.
United Kingdom: Glasgow Science & Engineering
As the home to the James Watt School of Engineering and the School of Life Sciences, the University of Glasgow offers the perfect environment for this intensive physics summer program.
United Kingdom: Summer in Sussex
Minutes from the sparkling seafront, Sussex is quintessentially English, with spectacular castles, greenery, and attractions fit for royals. Pre-med and life sciences majors can earn up to a year of physics credit in two months!
Ecology & Evolutionary Biology Opportunities
COUNTRYwithPROGRAM
DESCRIPTION
Human Bio Opportunities
COUNTRYwithPROGRAM
DESCRIPTION
Engineering-Specific Opportunities
COUNTRYwithPROGRAM
DESCRIPTION
Advanced MAJOR Opportunities
COUNTRYwithPROGRAM
DESCRIPTION