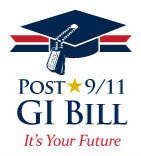 Updated: November 2013
The Office of the Registrar will direct GI Bill recipients to a study abroad document on the VA website. This is a recently updated document (as of November 2013) as GI Bill benefits did not include study abroad previously. There are several scenarios described in the fact sheet. The first scenario describes UCEAP and UC Summer Abroad programs. The other scenarios would describe various types of International Opportunities Program options for UC Merced students.
While study abroad advisors are not experts on the GI Bill, according to the document referenced above it seems that for UCEAP and UC Summer the GI Bill can cover:
UC tuition fees
A monthly housing allowance (not necessarily the full housing cost)
Stipend toward books and supplies
Costs that would need to be covered by sources other than the GI Bill (e.g. federal, state, UC, or private financial aid) include:
Participation fees and any study abroad-specific fees
Pre-departure expenses
Airfare & local transportation
Accident and medical insurance
Meals
Any costs not fully covered by monthly housing allowance or by books and supplies stipend
GI Bill eligibility will be limited for International Opportunities Programs and will likely vary from program to program. This information may still be in flux and there may be more updates.