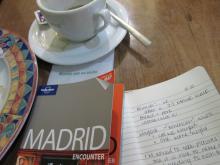 There isn't necessarily a correct order to apply for study abroad but here is guidance for students who need help.
The process to study abroad will depend on when the student inquires, what term a student goes abroad, and their academic goals and program expectations.
Below is a suggested guide to prioritize the steps to study abroad.
1

 
Research program options and academic needs.

Consider academic needs and/or goals while studying abroad.

2

 
Ask questions, if needed.

3

 
Get feedback from study abroad returnees.

Request returnee contact information from International Affairs.
Read study abroad reviews, when available.

4

 
Check application deadlines.

5

 
Choose from a list of study abroad options.

If the right program doesn't appear, do a wider program search:
Choose a program based on the best academic fit.

6

 
Start application process.

7

 
Complete application

MyEAP applications for UCEAP are submitted to International Affairs.
UCSA and IOP applications are submitted directly to program provider.
Complete all requirements for the program in the MyStudyAbroad Portal.

8

 
Check study abroad funding.