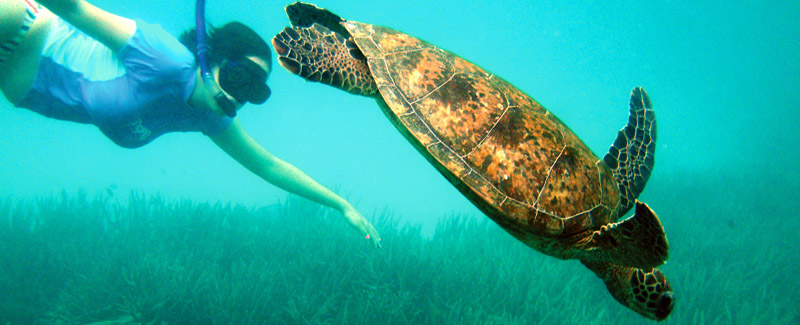 ---
Backpack through tropical rainforests in Costa Rica, research the Great Barrier Reef in Australia, or delve deeper into sustainability in New Zealand. No matter your interest in Environmental Systems Science there is a myriad of unique experiences well suited to ESS majors. Of course ESS majors, like other SNS majors, need some careful planning to make study abroad work in their academic plan, but ESS majors have some of the most exciting options abroad and upper-division electives and undergraduate research electives should fit well with program opportunities.
Programs Specifically Selected for Environmental Systems Science
Australia: Marine Biology & Terrestrial Ecology
Participate in innovative research in the diverse marine ecosystems of Queensland. This program will take you from the bio-rich Australian rainforest around Lamington National Park to nesting turtles at Heron Island on the Great Barrier Reef. Study marine biology and human and terrestrial ecology with fellow UC students in courses designed with labs, extensive fieldwork, and hands-on research.
Costa Rica: Tropical Biology and Conservation
Explore the flora and fauna of Monteverde, one of the richest wildlife sanctuaries in the tropics. Extensive field trips and captivating lectures in the forest illustrate key biological concepts, and dedicated instructors will help you build your skills as a scientist as you conduct your own research project. Other highlights include a week-long backpacking trip, two weeks of camping, and a brief homestay.
Singapore: Biodiversity
Explore biodiversity, along with local language and culture, and learn about tropical ecosystems and diverse communities of this island-nation, with a field excursion to a Malaysian island for research.
Chile: Socio-Ecological Sustainability in Southern Chile
On the forested shore of Lake Villarrica in Chile, investigate sustainable development and conservation. In the land of the indigenous Mapuche people, there is awe-inspiring beauty everywhere—and it demands preservation. Unique study opportunities include participation in an environmental planning project with a team of classmates and addressing environmental management and socio-ecological sustainability in Latin America.
Immersion & Exchange Programs Suggested for Environmental Systems Science
Denmark: Univ. of Copenhagen
Denmark is a global leader in the use of renewable energy, advanced technologies, and creation of a sustainable society. Enjoy small class sizes within this large, research-based university, and access many opportunities to participate in research projects in your major. You may take first year graduate level courses for upper-division credit provided you have the appropriate background.
Barbados: Univ. of the West Indies
Barbados is an excellent location to focus studies on tropical and marine science. The University of West Indies at Cave Hill offers a wide selection of courses including: Caribbean Island Biogeography, Tropical Ornamental Plants, Climate Variability and Predictability, Coral Reef Ecology, Fisheries Biology, and Environmental Chemistry. The Cave Hill campus is also home to the Barbados Sea Turtle Project which offers opportunities to volunteer for 1 to 2 month periods throughout the year.
South Africa: Univ. of Cape Town
Small class sizes, field work, and hands-on lab work all complement studies at the University of Cape Town. The Department of Environmental & Geographic Sciences is known for its commitment to sustainable living. Some focus areas include climatology, climate change, soil erosion and land degradation, and environmental management. The Department of Biological Sciences houses the Bolus Herbarium, Marine Biology Research Centre, the Plant Conservation Unit, and the Animal Demography Unit, among other research centers.
Sweden: Lund Univ.
ESS students will find courses in the Department of Earth & Ecosystem Sciences, Human Ecology, and the Faculty of Engineering. You may take first year graduate-level courses for upper-division credit provided you have the appropriate background.
United Kingdom: English Universities: Univ. of East Anglia
You have access to innovative fieldwork in development, ecology, and energy engineering. And world-leading research and teaching at UEA's School of Biological Sciences covers the full spectrum of biology, from biomedicine and developmental biology to microbiology, biochemistry, evolutionary biology, ecology, and conservation.
Singapore: National Univ. of Singapore (NUS)
At this highly ranked research institution, you can enjoy many science courses with lab or field research components. ESS courses have been taken by many UC students and address such issues as climate change, land and water use, alternative energy, and the building of livable high-density cities.
Internship Opportunities for MAJOR Majors
COUNTRYwithPROGRAM
DESCRIPTION
Research Opportunities for MAJOR Majors
COUNTRYwithPROGRAM
DESCRIPTION
Global & International Opportunities
COUNTRYwithPROGRAM
DESCRIPTION
Summer Physics Abroad
One potential route to study abroad for STEM students is to tackle a full year of introductory physics over the summer. Typically, this is the summer between students' first and second year at UC Merced. Consider these options:
Australia: Sydney Summer Physics
Earn a full year of calculus-based physics credit in just eight weeks. Fulfill math requirements for the life sciences or get a jump on pre-med coursework and experience life in Sydney, Australia.
Cyprus: Nicosia Summer Physics
Study intensive physics for the life sciences in beautiful Cyprus. Note that this program is better suited to biological sciences students than other STEM students.
Ireland: Cork Summer Physics
In just eight weeks at the University College Cork, you can earn a full year of calculus-based physics credit, get a jump on math coursework, or prepare for a pre-med track. Lab experiments and group workshops expand your science knowledge with students from around the world.
Spain: Madrid Summer Physics
Add some sizzle to your summer—study in Madrid and return with a full year of physics credit. This intense 8-week program is ideal for life sciences majors who want to get a quick boost in academics.
United Kingdom: Glasgow Science & Engineering
As the home to the James Watt School of Engineering and the School of Life Sciences, the University of Glasgow offers the perfect environment for this intensive physics summer program.
United Kingdom: Summer in Sussex
Minutes from the sparkling seafront, Sussex is quintessentially English, with spectacular castles, greenery, and attractions fit for royals. Pre-med and life sciences majors can earn up to a year of physics credit in two months!
Ecology & Evolutionary Biology Opportunities
COUNTRYwithPROGRAM
DESCRIPTION
Human Bio Opportunities
COUNTRYwithPROGRAM
DESCRIPTION
Engineering-Specific Opportunities
COUNTRYwithPROGRAM
DESCRIPTION
Advanced MAJOR Opportunities
COUNTRYwithPROGRAM
DESCRIPTION