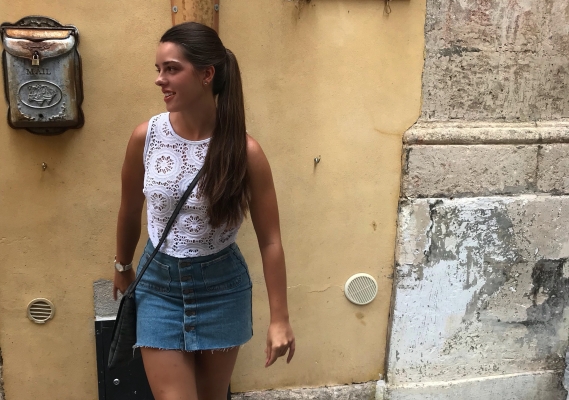 Q: Describe some of the unique opportunities you had while studying abroad.
A: The study abroad program I participated in was very unique in itself since it allowed us to study in three different locations throughout the semester. Throughout my time abroad with this program, we ventured on many excursions where our professors or tour guide showed us the history of the land.
Q: What was the most interesting cultural experience you had while abroad?
A: Learning the way of life in Italy and Spain. It made me appreciate what I have in life and realize that in America people rush through life without enjoying it.
Q: Describe what you learned academically due to studying abroad?
A: I learned a lot about the history and politics of Italy and Spain and how those factors had an effect on traditions, culture, and food in these countries as well as the rest of the Mediterranean.
Q: What impact did studying abroad have on you personally?
A: It was a wake-up call for what I want after my life. My family is from Europe and I've always known that living in Europe would be more my cup of tea, but I just brushed it off thinking it would never be an attainable goal, but now I could actually handle moving out to another country and live there. Now I am motivated to do so.
Q: What was the most memorable or meaningful aspect of your time abroad?
A: The most meaningful aspect abroad was when our professors would take us into their world, introduce us to people they know, and show us their lives.
Q: What would you recommend to students considering studying abroad, especially to your program?
A: I would say DO IT! Studying abroad should be a requirement in my opinion. It changes the perspectives and mindsets of life, the world, food and culture for those who do it.
Q: What coursework did you take while abroad? How did these courses compare to UCM courses?
A: I took two umbrella courses and two site-specific courses in Florence and Barcelona. Courses were much more interactive than I have ever experience here. There was more coursework but it was enjoyable.
Q: Describe a typical day for you while abroad in your host country?
A: I'm using Barcelona on a Tuesday as an example:
Wake up at 7:00 am - get ready for school and make breakfast, then eat and clean kitchen
8:30 am - out the door to walk to school or metro (I lived right next to the Sagrada Familia and it took 30 minutes to get to my campus walking or metro)
9:00 am - First class on the history of food would start and go until about 1 pm, then we would get a lunch break
For lunch, I'd either go to the mall close to campus or eat at campus
3:00 pm - the next class would start and go until about 5 pm
Then I'd walk home make myself dinner or go out to eat with some friends and hang out a little, maybe do a little homework before bed. It was easy to hang out with everyone in the program while in Barcelona because we all lived in the same building.