Start off 2016-17 with a study abroad experience! There is need to worry about arranging flights, getting too far outside your comfort zone, or having to say goodbye to everyone or everything you love in California. For the cost of a headset, you could have a complete study abroad experience.*
Overview | Housing | Courses | Similar programs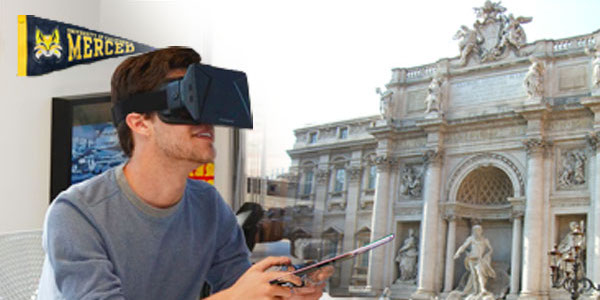 Overview
Study abroad the easy way—virtually! Take classes in your major without falling behind, be 100% certain of your financial aid, avoid pesky study visas and foreign currency exchanges, and never worry about language barriers with this one-of-a-kind study abroad program in the heart of London, Rome, Tokyo, Paris, or Mexico City!
Housing
Handle your own housing; live at home, stay in the dorms, even capsule hotels. The beauty of this program is students have tremendous real life and virtual housing options.
Courses
Summer students: You will take a total of 12 quarter/8 semester units.
Semester / year students: You will take a total of 24 quarter/16 semester units per semester.
Sample courses:
Sustainable Study Abroad
Virtual Sights & Sounds
Intro to Decision Science
And many more…
Virtual Study Abroad will help UC meet its goal to send 10,000 students abroad every year by 2020 and you could be a global pioneer blazing your path through the new global age.
Similar April Fools' programs
UCEAP - Study Abroad Life Swap
UCEAP - NORTH KOREA - Basketball Diplomacy
* Add-ons available for small fees: "cultural" meals, $22.50/ea; green screen photo shoot with 8 scenic selfies, $89.75; field trips & excursions, $10-400/ea; US-foreign-US plug adapters, $12.50/ea.