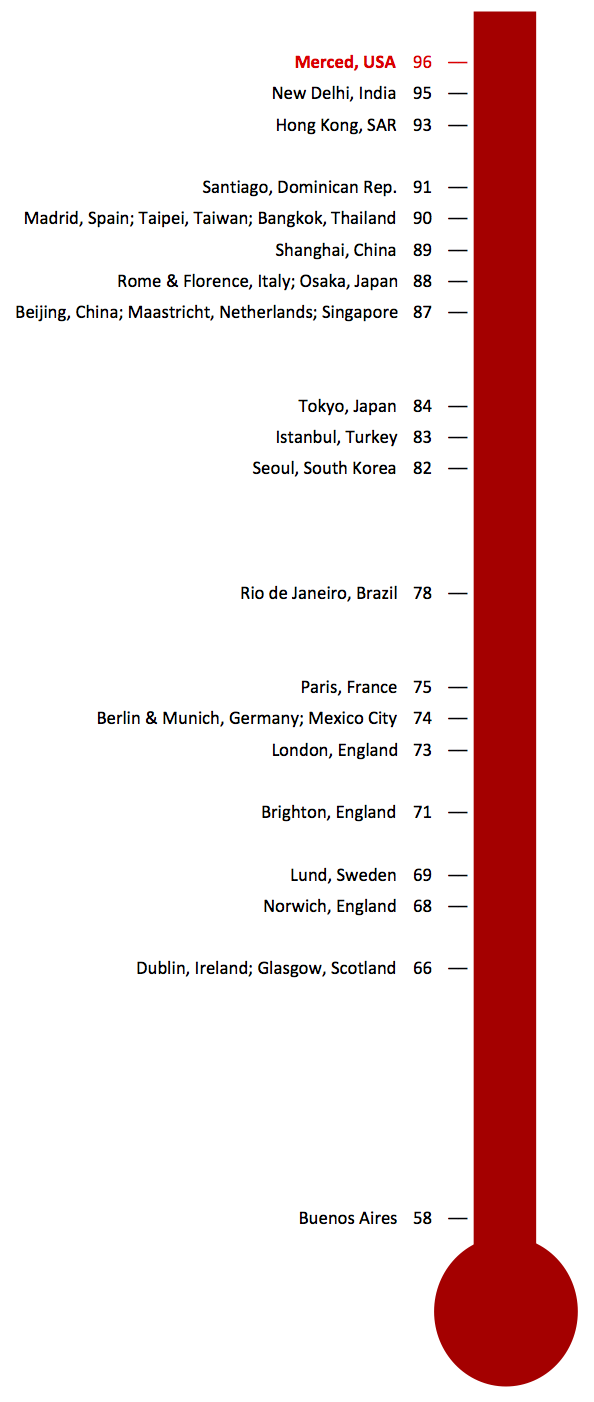 July 26 will mark the last new student orientation and the forecast is for a very warm welcome. The average high temperature in Merced in July? 96°. And we're on track to average 97° this year. Want to compare? Click the graph on the right to expand.
If you find it too hot in Merced, consider study abroad as an alternative in summer 2017. Out of all programs in cities with available statistics, all had average high temperatures below Merced's (but do consider humidity, too). Consider one of these cool cities:

#1 Buenos Aires, Argentina: 58°
Intensive summer program in Latin American Studies taught in English. Five weeks in the center of Buenos Aires with local excursions to support and expand instruction. Optional Spanish language instruction available.

#2 (tie) Dublin, Ireland: 66°
Study intensive Physics for the Life Sciences or Computer Science at University College Dublin in the summer. UCD is a leader in innovative science teaching and research.

#2 (tie) Glasgow, Scotland: 66°
Study abroad in Glasgow for 8 weeks in the summer. Take courses in one of three tracks: Physics or Biology or Math and earn UC credit.

#4 Norwich, England: 68°
Choose classes from a wide variety, taught by UEA faculty during four weeks at the UK university "rated #1 for student experience." Many social activities are included, too.
#5 Lund, Sweden: 69°
This language-based program offers Swedish instruction at all levels, along with a vibrant experience in Swedish culture and life through field trips, guest lectures, and social activities.
#6 Brighton, England: 71°
Intensive learning in a friendly, cosmopolitan environment just an hour from London. Enjoy an array of course offerings, from film and creative writing to a full year's equivalent of calculus-based physics.
#7 London, England: 73°
Boost your résumé as you study alongside current and future leaders in finance and politics at one of the world's most prestigious universities. Courses include core economics and a full range of related disciplines.
Brand new program. Info coming soon.
Design your own program: take intensive German language classes, choose courses in English in a variety of subject areas relating to Germany and Europe, or take a combination of both. Includes field trips to museums, memorials, and political and cultural institutions.
#8 (tie) Berlin, Germany: 74°
Innovative courses in engineering, architecture/urban design, and business taught in English and combining theoretical and practical experience. Includes site visits to local companies and research facilities.
#8 (tie) Mexico City: 74°
Intensive five-week summer program in Mexico City. Studies in contemporary Mexico taught in English, Spanish language course and cross-cultural reflection opportunities. Explore the capital and the culture through the program's included excursions.
#8 (tie) Munich, Germany: 74°
Take project based engineering courses that include lab experiments and simulations and visits to global companies headquartered in Munich.