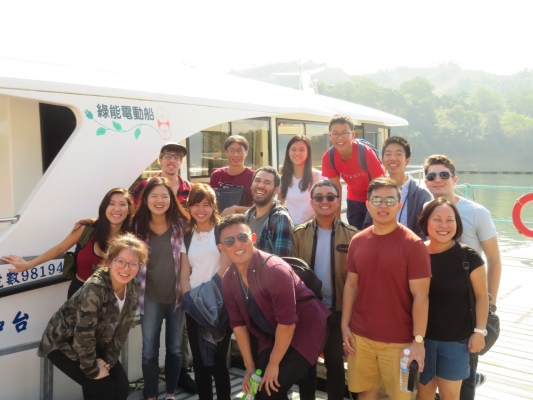 Q: Describe some of the unique opportunities you had while studying abroad.
A: I was fortunate to intern with the National Taiwan Museum and participate in their International Docent program. Through this program, I was able to guide English tours throughout the museum, create and maintain the social media accounts for this service, attend private lectures held by the museum, and visit other museums throughout Taiwan. I was able to develop my public speaking and story telling skills while making friends from around the world and get free access to the National Taiwan Museum.
Other unique opportunities include going on weekend trips held by the CSU/UC director. We went on a 2-day trip to the middle of Taiwan visiting parks, flower gardens, lakes, and other cities. In these pictures, I am with my fellow UC/CSU peers and the UC/CSU program director for Taiwan. I also went on trips with the friends I made in Taiwan. Traveling around and from Taiwan is so easy due to its convenient location.
Q: What was the most interesting cultural experience you had while abroad?
A: The most interesting cultural experience I had abroad was participating in the National Taiwan Museum's International Docent program. Through this program, I was able to learn more about Taiwan's history and the museum's significance while meeting local and international docents. I was able to travel to Tainan, a city in the south of Taiwan, due to this program and visit 2 different museums there; that was my first time riding the High Speed Rail and traveling to Tainan. The program was a great experience because I became close friends with other nationals and bonded over politics and Ru Paul's Drag Race at small get-togethers/dinner parties
Q: Describe what you learned academically due to studying abroad?
A: From my academics abroad, I improved my Chinese. The coursework for the language classes are not too bad, but it's the sheer amount of characters and different grammar structures that had many students struggling. Even Japanese students (who are great with reading and writing) and 2nd generation Taiwanese-Americans (Australians, Canadians, etc.) who are fluent speakers struggled in these classes. Before coming to Taiwan, I did not know how to read or write any characters and my listening comprehension was okay at best. After Taiwan, I am able to read and write at least 200 characters and learned new grammatical rules that improved my speaking skills. 
Q: What impact did studying abroad have on you personally?
A: Studying abroad in Taiwan allowed me to be by myself and reflect often. Because of this, I became more patient with myself and others and became more independent. I realized how important my new and existing relationships were and strived to maintain and improve them.
Overall, I grew in Taiwan and learned much more about myself and my background.
Q: What was the most memorable or meaningful aspect of your time abroad?
A: The most memorable aspect of my time abroad was meeting amazing and genuine people who later became my friends. After reflecting, I realized that the friends I made abroad are closer to me than the friends I made during my 4 years at UC Merced. We were a very "wholesome" group that met up a couple times a week to play board games and go out for hotpot and dim sum after class. Other times, we went to the water front and hung out until we go to an internet cafe or get breakfast at 4:30AM. 
During Christmas, my friend and I organized a Christmas and Secret Santa party and it was nice seeing everyone come out and exchange gifts with one another. Because of them, I realized I needed to appreciate the friends I have and keep the ones who are important to me close. They inspired me to become a better person by controlling my emotions better by being patient and dealing with irritability better.
Another meaningful aspect was improving my relationship with my family. Growing up, I was not good at Chinese and was often too shy to talk to my grandma and extended family. Because of this, our relationship was loving but distant due to language barriers. After coming to Taiwan, my Chinese improved and I learned how to talk to my grandma. Although there is still a language barrier, it meant a lot to me to build a relationship with her and strengthen our communication skills. I initially came to Taiwan to learn about the country my parents grew up in, but I left with much more.
Q: What would you recommend to students considering studying abroad, especially to your program?
A: If you are a female student who wants to solo travel but are wary for your own safety, I recommend Taiwan. Women's right in Taiwan are far more progressive than those in South Korea and Japan (although there still is work to be done) and it is common to see Taiwanese and international women walking alone late at night. 
While there are many things I miss about Taiwan, I miss its safety and convenience the most. Taiwan allowed me to be independent and wander alone at night without the assistance of a guy. The feeling women get by doing so is incredibly empowering; while women must always be wary of their surroundings, it's a relief to know that there are many resources available to ensure their safety everywhere which allows women to carry on their everyday lives without a worry.
For foodies, Taiwan is a giant foodie country. I think Taiwanese food is the best, although I'm biased, and it is cheap in terms of the US dollar. Taiwanese culture actually is a foodie culture, with people constantly eating out everyday and frequenting small, street-side stalls for delicious food. Although Mexican food is difficult to find in Taiwan (only 1 okay place next to my University, everywhere else sucks), there are many different kinds of food available that will be difficult to get in the US. Take advantage of the cheap, delicious food and eat your way through Taiwan. The food in Taiwan is diverse and is great for vegans/vegetarians due to Taiwan's buddhist background; it's very easy to find a delicious and filling vegan/vegetarian buffet that is less than $2.50 USD. For omnivores who like convenient food, convenience stores are on every corner in Taiwan and are lifesavers for those who have irregular sleeping schedules and wake up hungry at 3AM. Taiwan also has a booming coffee and craft beer scene for those who enjoy coffee and beer.
Q: What coursework did you take while abroad? How did these courses compare to UCM courses?
A: I took a women's (in Taiwan) gender study class, natural resources and environment class, Chinese, foreign policy, and an English literature class. The only classes I enjoyed were my foreign policy, natural resources, and women's study classes. 
Compared to UCM courses, my classes were uninteresting and easy (except for Chinese). I felt unchallenged while attending school in Taiwan and that unmotivated me.
Chinese was a difficult class but that was because I was placed in a level higher than my reading/writing level. My listening comprehension and talking skills are much more advanced than my reading/writing skills (none), so I made the choice to push myself and take a class that matched my listening comprehension skills. This meant that I was placed in a class that expected students to already know 200 characters while I did not know any. However, I studied hard and finished with an A-.
Q: Describe a typical day for you while abroad in your host country?
A: I would wake up at 8 or 9AM for class and end around 12:30PM, meet up with friends to get lunch at a vegetarian buffet, go back to my dorm to shower or get ready, commute to a cafe to study and stay for 4 hours, leave the cafe and get dinner, go home around 9PM, meet up with my friends at 10:30 in our dorm's lounge to play board games, go back to my dorm at 12:30AM, and sleep around 3AM.
Sometimes this would vary. I might go watch a movie at 12AM with my friends and then visit a 7/11 at 2AM before sleeping.