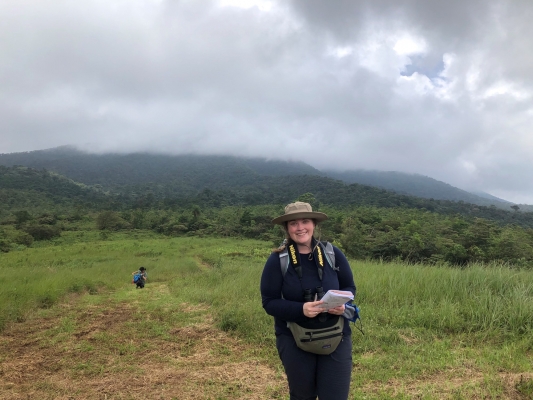 Q: Initially, what made you decide to study abroad? Why did you choose your program?
A: I made the decision to apply after the COVID-19 pandemic had everyone taking classes at home for almost a year. I felt like I really needed to shake things up and go on an adventure. I chose the Tropical Ecology and Conservation program for a few reasons. The first was I always had wanted to see what the tropics were like. The second reason was I wanted to take classes that I just wouldn't be able to find at UC Merced. The third was that this program offered an independent research experience and that was really exciting to me.
Q: How do you think COVID-19 uniquely impacted what you learned as a study abroad student?
A: Fall 2021 was the first semester of study abroad programs being ran after the pandemic hit, so I think everyone was trying to figure it out as we went. We were definitely more cautious about what we did and who we were around, and luckily because of all these precautions no one in the program caught covid! I think I still got the same quality of education, especially in my classes. It was a bummer that we couldn't participate in home stays, but I feel like our instructors tried to make up for it the best they could and we still got to have some of that cultural immersion because of that.
Q: What was the highlight of your study abroad experience?
A: I think the highlight of my experience abroad, aside from all the incredible people I got to meet, was doing my independent research project. I did my project on bats and pollination, so I got the chance to learn how to capture and handle bats. I'll never forget being on the deck of the field station in San Gerardo at night catching and releasing bats, it was just so special to get to work with these animals up close and getting to see how amazing they really are.
Q: What was your greatest challenge abroad and how did you overcome it?
A: I think the biggest challenge for myself was just being so outside of my comfort zone. I went from being inside my bedroom for a year to being out in the field almost every day. Field work was something I had never done before and plunging headfirst into it was something I am glad I did now, even though it felt a little scary and challenging at the time. Luckily for me I was surrounded by supportive people who helped me get out of my head and just enjoy the experience.
Q: How did your coursework abroad compare to your courses at UC Merced?
A: I think it's hard to compare my coursework in Costa Rica vs at UC Merced because it was so different. In Merced we have clearly defined lectures and labs, you pretty much know what you're going to be doing every day. In Costa Rica, each day felt like a unique learning experience, and it sounds cheesy, but nature really was our classroom. Classes were rigorous but not stressful. The professors would encourage us to follow our own curiosities which made classes really fun at times. The professors in Costa Rica were top-notch and I learned more in a few weeks with them than I would have learned in years in a traditional classroom environment.
Q: What did you gain from your study abroad experience?
A: I think I gained a lot of confidence in myself and what I can do. Before going abroad, I don't think I could have imagined myself out in the field chasing around monkeys or catching bugs, but now field work is something I am hoping to do in my career. I learned how to be a better scientist and gained an even deeper love and understanding of nature and our place in it. And I gained lifelong friendships that I'll always cherish.
Q: What advice do you have for students considering study abroad?
A: Just do it! It's going to feel scary, and you may have doubts, but I can say that going abroad will be an experience that you will not regret. It really is true, studying abroad will change your life.
Q: Describe a typical day abroad.
A: Our days abroad in Costa Rica were probably very different than what you would see in other programs. For the first two weeks of the program we would be traveling around Costa Rica learning about different ecosystems out in the field. Then we got to Monteverde and stayed in the station there for a few weeks. Here we took classes during most of the day but would occasionally get some free time to go into town or take a hike on the property (which was so incredibly beautiful!). Finally, the last bit of our program was all about our independent projects. This time was different for every person depending on what their project was. You would pick your own schedule and manage your time to get your work done. Generally, every day was different, and I had to be flexible, but that's part of what made it so much fun!
Q: If you could go anywhere in the world tomorrow, where would you go and why?
A: If I could go anywhere tomorrow, I think I would want to go somewhere tropical, like Indonesia! I think I'll always want to go back to the tropics because I learned so much about them in the program and I have so many fond memories of them.