May is Bike Month. You can celebrate it in Merced with three special activities:
May 02: Bike to Work and School Day
May 05: All Merced Road Ride
May 18: Mayor's Bike Ride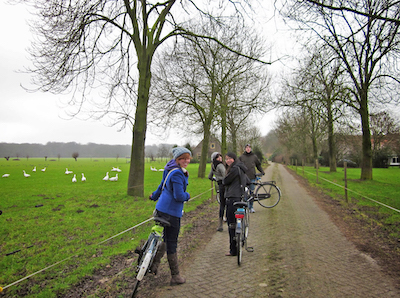 Perhaps May 2020 you could celebrate Bike Month studying abroad!
You can zip around a new city by bus or public transit. You can explore cities on foot and see things you would miss otherwise. But some cities give you the flexibility to explore by bicycle. You see things you might not otherwise see and you have the freedom to make your own route.
Do keep in mind that bicycle and traffic laws may vary significantly abroad and we encourage you to take your personal safety seriously.
While not every city abroad is bike-friendly (imagine trying to bike the bridges in Venice), here are some of the highlights:
10. Dublin

Explore Study Abroad programs and applications for Dublin
9. Budapest
Explore Study Abroad programs and applications for Budapest
8. Barcelona

Explore Study Abroad programs and applications for Barcelona
7. Rio de Janeiro

Explore Study Abroad programs and applications for Rio de Janeiro
6. Montreal

Explore Study Abroad programs and applications for Montreal
5. Berlin

Explore Study Abroad programs and applications for Berlin
4. Tokyo
Explore Study Abroad programs and applications for Tokyo
3. Bordeaux

Explore Study Abroad programs and applications for Bordeaux
2. Utrecht

Explore Study Abroad programs and applications for Utrecht
1. Copenhagen
Explore Study Abroad programs and applications for Copenhagen