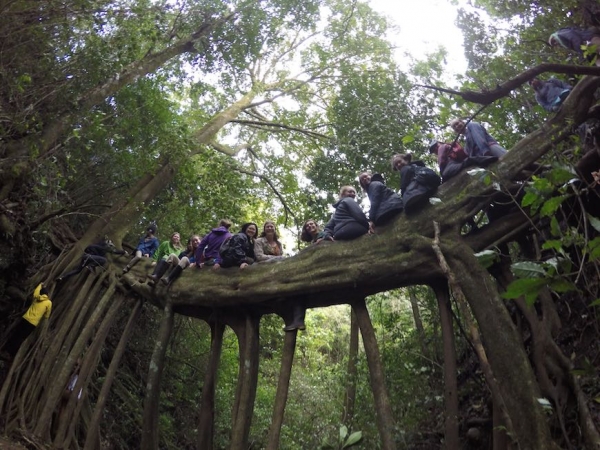 Q: What made you decide to study abroad? Why did you choose your program?
A: I knew I wanted to study abroad before even coming to UC Merced, while I was in high school I had an amazing biology instructor who told us about her experience while she was abroad in Costa Rica and it made me become more interested in tropical ecology.
Q: What was the highlight of your experience?
A: There were too many amazing things to pick a single one, but watching an Oliver Ridley Sea Turtle lay her eggs on Isla San Jose, seeing a young Two-Toed Sloth on a coffee farm, picking coffee berries at Monteverde Coffee Farm and conducting my independent research in the forest with Howler Monkeys swinging in the canopy were all events which I will never forget.
Q: What was your greatest challenge and how did you overcome it?
A: The greatest challenge I had to overcome involved snorkeling in very deep water, since the water was crystal clear and I was able to see the depth of it I began to panic at first, but was reassured of my safety by my instructor and snorkeling buddy. My fear of night snorkeling was overcome by seeing the beauty of the bioluminescence in the water.
Q: How did the coursework compare to UCM?
A: The coursework was not as difficult as any upper division biology course at UCM, however it required more independent research since a lot of the material was specific to the country. It meant we had to be proactive and dig in the library to find more information about a native plant or animal.
Q: What did you get out of your SA experience?
A: I learned a lot about the hard work that goes into conservation, and I was able to explore the country in a way that I wouldn't have been able to if I were a regular tourist. I got to meet a man who discovered a new tree species in the country, and a woman who is taking the inventory of the country's insects and some of the magnificent specimens she collects get sent to the Smithsonian National Museum of Natural History in D.C.
Q: What advice would you give to a student considering SA?
A: I would say it is well worth the extra effort, and you will leave your program learning more things than you ever would at a regular semester at the UC. The coursework is so enjoyable at times that it hardly feels like work. You will learn about new career options, and make more connections in your field as you meet more educators and study with a diverse group of students. I was constantly blown away by how amazing Costa Rica was, and I can't wait to go back!